Best Places to Enjoy a Rooftop Patio in Calgary
Posted by Kenton Ryan on Friday, July 8, 2022 at 10:57 AM
By Kenton Ryan / July 8, 2022
Comment
Best Rooftop Patios in Calgary.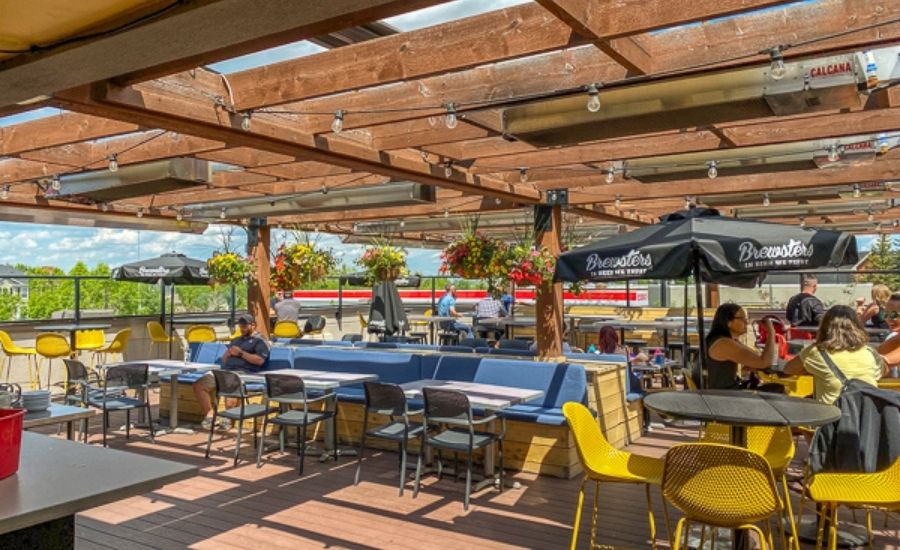 Looking for the perfect place to grab drinks this weekend, with a view? Consider one of Calgary's many rooftop patios, where you can take in views of the city skyline or the mountains with a menu of delicious food and drinks in hand.
Keep reading to find out about some of our favorite rooftop patios in Calgary.
Canadian Brewhouse University District
3953 University Ave NW, Calgary, AB T3B 6K3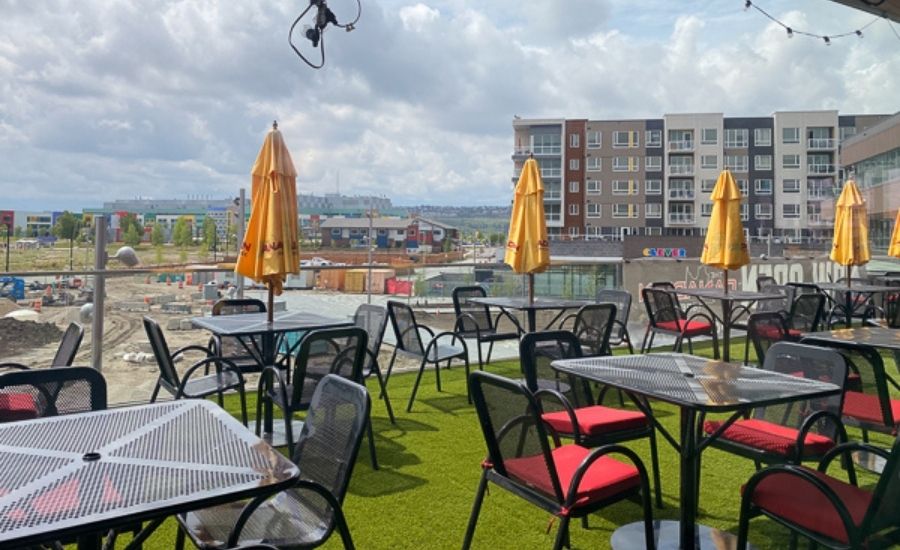 Cick Here for more information
Craft Beer Market
345 10 Ave SW, Calgary, AB T2R 0A5
Craft Beer Market has a Downtown Calgary location that features a rooftop patio with panoramic views of the city's skyline. This three-season patio is open-air whenever the weather permits, with a retractable roof that is open whenever temps rise above 5 degrees.
This trendy rooftop bar is the perfect place to bring a date or client you want to impress, or to meet up with friends for drinks. The menu features everything from small bites and cocktails to hearty meals. Try their Poutine with Beer Salt, Hawaiian Ahi Poke, or Korean Fried Chicken. The menu also accommodates plant-based diets and food allergies, with something for everyone. It's hard to beat the ambiance and the menu at this gorgeous rooftop patio.
National on 8th
225 8 Ave SW #360, Calgary, AB T2P 2W3
National on 8th is a lively venue with an on-trend atmosphere and a rooftop patio open seasonally. With shaded community-style tables, hanging plants, and views of the city, National on 8th has a laid-back vibe that will put you right at ease. This bar is located in Calgary's downtown core and near the Calgary Stampede.
Their menu is enough to keep you coming back for more, with perfectly executed, innovative takes on classic pub fare like their Hot Smoked Bacon Burger or their Okonomiyaki Tater Tots with Togarashi Mayo. Of course, their beer selection is great, too, with beer taps to keep you up to snuff on all the local craft beers. There is also an extensive wine and spirits list if beer isn't your thing.
The Canadian Brewhouse (Brewhouse Mahogany)
7 Mahogany Plaza SE, Calgary, AB T3M 2P8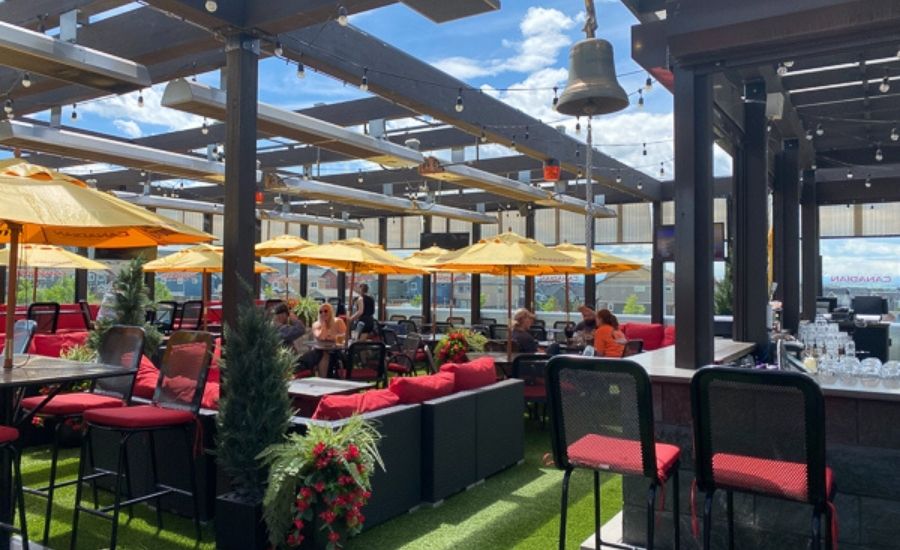 The Canadian Brewhouse, a favorite national chain for great food and a fun night out, has opened a new location in Calgary's University District and the Mahogany area. This new location features a rooftop patio with gorgeous views of the city. The patio is family friendly in the afternoon and evening, and then becomes a more lively atmosphere after the sun sets. This is a great place to watch live sports, with massive TVs all around and an extensive beer menu featuring over 30 beers on tap and a long list of mouthwatering cocktails.
The food menu has everything you are craving, too, with favorites like Golden Garlic Fingers, a pizza shell with garlic butter, bacon bits, and cheese with your choice of marinara or donair sauce. Maybe you would prefer Maple Bacon Poutine with cheese curds, Boursin cheese, chicken gravy, and green onions.
~ Read more about the Canadian Brewhouse
The Tommyfield Gastro Pub
19489 Seton Crescent SE #920, Calgary, AB T3M 1T4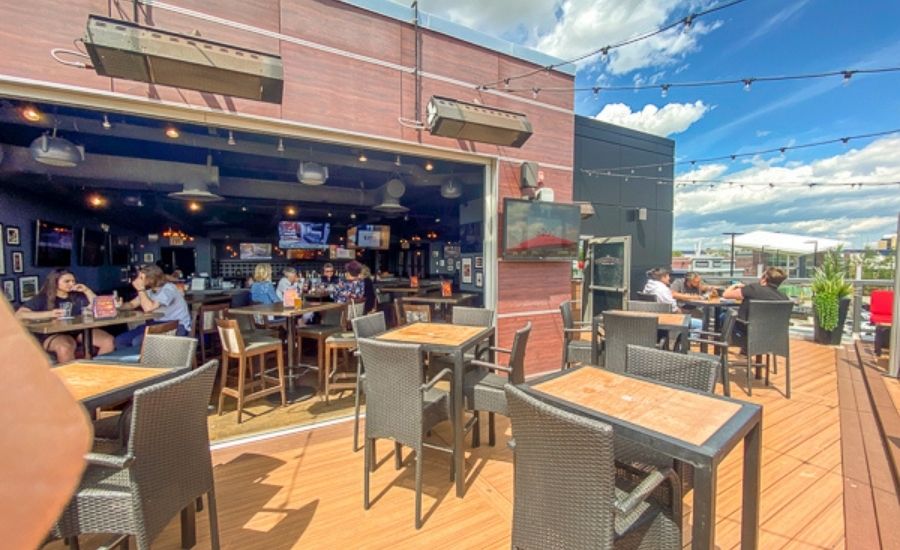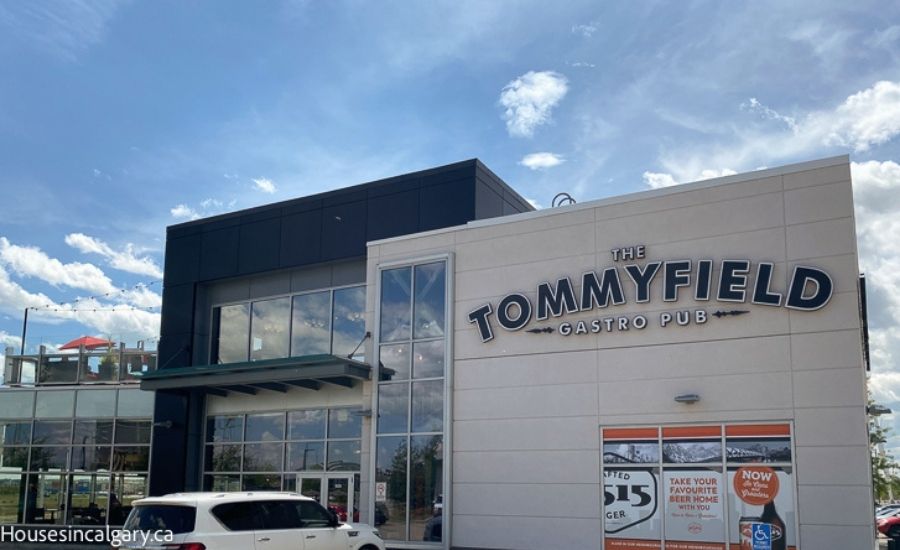 Located in Southeast Calgary, The Tommyfield Gastro Pub is a neighbourhood pub with a spacious rooftop patio. Before 8:00 PM, they are a family friendly pub with menu items little ones will devour and a fun atmosphere the whole family will enjoy. After 8:00 PM, the pub becomes an adults-only scene with special events and plenty of beers on tap.
The patio is open whenever weather permits, with a fireplace that creates a perfect ambience. Their menu features a perfect blend of trendy flavors and classic European pub influence. Don't forget to try their weekend brunch, too!
Brewsters McKenzie Towne
11 McKenzie Towne Ave SE, Calgary, AB T2Z 0S8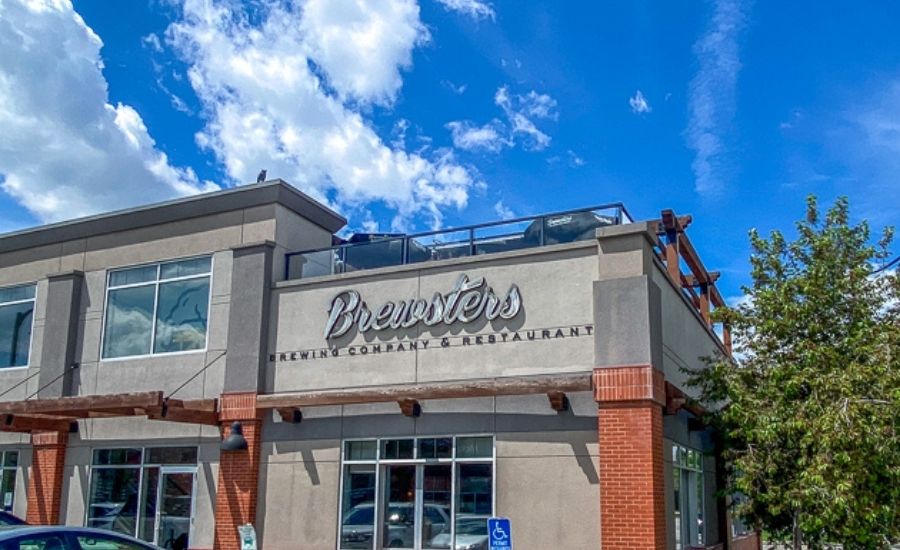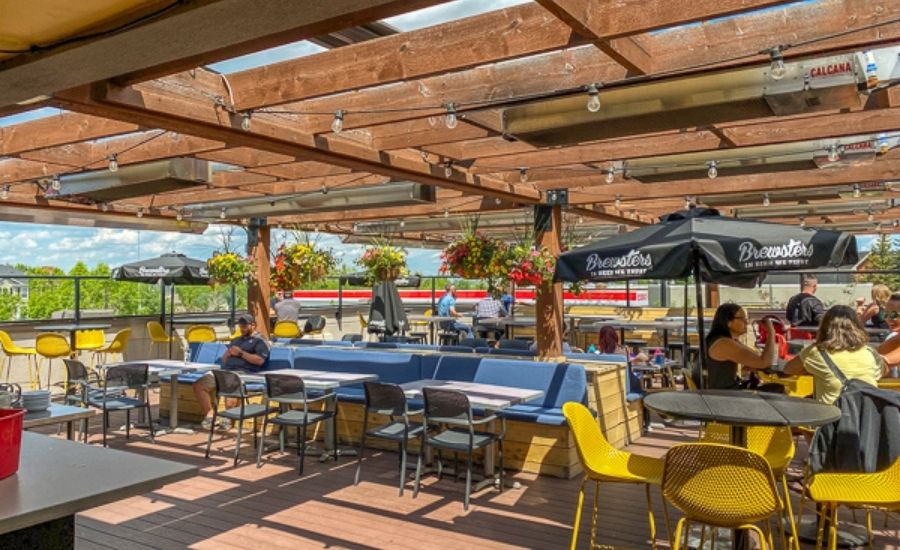 Boasting some of the best rooftop patios in the city, Brewsters is a local chain with multiple Calgary locations. Brewsters was opened in 1989, and has been perfecting their craft beer ever since. They were ahead of the curve, far before craft beer became the trend it is today.
When you visit Brewsters, you can expect a diverse array of beers on tap, with plenty to taste and cans, bottles, and growlers ready to bring home. If you would like to stay for a meal on the rooftop patio, their food menu is just as delicious as their drinks, with items like Lobster Artichoke Dip, Bavarian Pretzels, and a Maple Bacon Bison Burger.
To learn more about living in Calgary, contact us any time.
More About Calgary - Best Off-Leash Dog Parks in Calgary
Browse Calgary's City Centre